5 Ways to Improve Your Relationships
by
Cheryll Messam
in Personal Development, Professional Development, Self-Mastery (Personal Leadership)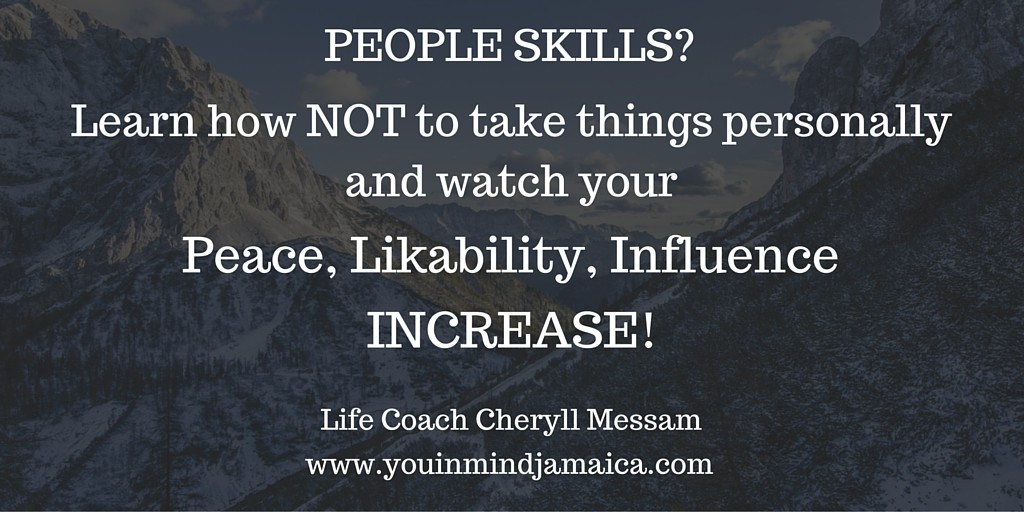 From time to time you may encounter someone in your family system, workplace, religious context, school, or business etc. that you don't get along with, and for good reasons. However,  based on who the person is, you may not have the freedom to terminate your connection or avoid the person. Instead of feeling trapped, fearful, anxious, or angry, take action to improve your relationship. Here are some tips that I have used personally and found to be quite helpful.
Be Self-aware – All of us have 'a way' about us that people respond to, some warmly, and some with irritation. Become aware of how you impact others and adjust as necessary.
Don't Take Things Personally – Although people often intend things to be personally offensive as part of their carelessness and power play in interpersonal exchanges, learning how to refrain from taking things personally, ensures that you will not be controlled by others. You can even laugh and be genuinely lighthearted in situations that would typically provoke vexation. This effectively eliminates the typical breaks in relationships and cooling of friendships brought on by negative emotions. Keep your stride.
Balance Togetherness with Separateness – Don't always be available or predictable. Generally speaking, we humans place higher value on things in short supply.
Affirm Others – Here are 4 messages that warm the heart. Physical – I like to look at you; Mental – I think you are intelligent; Social – I like your company and Competence – I think you do that well. No matter how objectionable someone is, at least one of these messages will apply to them. Be mature. You-have-it-within-you hard as it may be, and as undeserving as the other person(s) may be. Still, challenge yourself and freely affirm others with as many of these messages as you can. Use your own words and style to convey these messages. Trust me–they work and Yes, over time, they 'put-down-the-gun.'
Apologize & Clean Up When You Make a Mess – Didn't we learn this in kindergarten? Each time your actions cause hurt, harm or setbacks for someone, and you are made aware of it, offer a simple "I'm sorry" with

no

qualifiers, and ask how you can make things better, then take swift action on what you can do to restore normalcy in the situation.
While we may not need a specific person, we do need people. Therefore, becoming life-long learners on improving our people skills and by extension our relationships with others, has a direct impact on our quality of life and our overall sense of well-being. I hope you found these tips helpful and that you will continue to grow more adept in handling your various relationships in satisfying ways.
If getting-along with others is an issue  for you that you have decided to overcome, we would be happy to support your personal development through our consultations or coaching services.  Reach out to us at cheryll@youinmindjamaica.com  We look forward to being your ally for excellence in life & work!
---
WANT CAREER MANAGEMENT TIPS?
Click the link to add your name to our contact database and receive your free copy of our e-report: The Seven Deadly Sins of the Professional. 
WANT TO PAUSE AND ASSESS HOW LIFE IS GOING FOR YOU?
Click the link to add your name to our contact database and receive your free copy of our e-book: Life is Just for Living. So How Am I Doing?

CONTACT COACH CHERYLL
Coach Cheryll Messam, CPC, ELI-MP, is a Certified Professional Life & Corporate Coach,  Energy Leadership Master Practitioner, and owner of YOU in Mind Jamaica, a personal and professional development company. Coach Cheryll helps local and international clients overcome their workplace, career management, job search, productivity, self-confidence and goal setting challenges.
Cheryll Messam, CPC, ELI-MP
Certified Professional Life & Corporate Coach
Energy Leadership Master Practitioner
You in Mind Jamaica – Your Ally for Excellence in Life & Work
Local clients: 876-357-6397 (Jamaica)
International clients: 954-762-7942 / Skype: cmessam2
Email: cheryll@youinmindjamaica.com (* Remember to include your  name and telephone number in your message)

*Office Hours: Coaching sessions & Consultations are done by phone or internet telephony e.g. Skype. Best time to call during weekdays is evenings 5 pm  – 10 pm EST, and on Saturdays 10 am – 5 pm.
PLEASE JOIN US