Izzy's Shoes – How to Influence People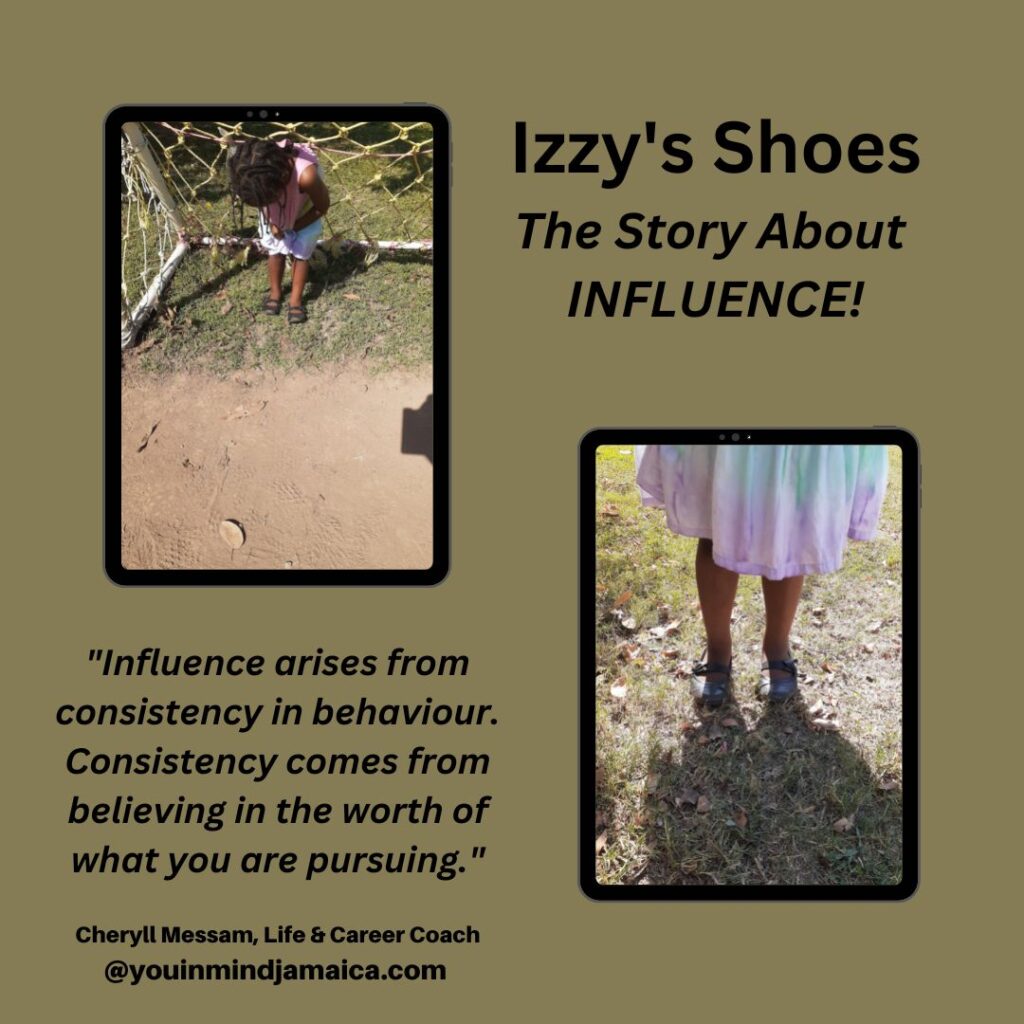 Meet my friend Izzy. Izzy is my neighbour. She claims she is 5 yrs old. This she tells me with much exasperation. Perhaps because I've asked her once too often. 🙂
She mostly sees me exercising. However as she puts it…
Izzy: Why you keep walking up and down?
Me: I'm exercising!
Izzy: But you just go up-and-down…up-and-down???
Me: I do it so I can grow healthy and strong.
Unimpressed, she moves off to attend to far more interesting pursuits.

Me? I keep walking. Yes, you got it. Up and down. Up and down. Worst with COVID-19 and all of that tsunami of changes in lifestyle, culture, relationships, work…? I try to keep up with my exercise even if just for mental health sake.
End of January 2023 arrives. Izzy and I are approaching our 2 year anniversary of friendship. It's Saturday morning and I'm going up-and-down. Eventually, I'm on my cool down walk and I hear a strange sound behind me.
It is Izzy. She has come to join me.
Remember, I'm on my last lap. She wants me to race her. Me well tired. It happens when you are female and over 50 yrs. Truth be told, I had considered skipping my morning walk because of how tired I felt. But I came out, to vote for myself and my future. Off she goes and looks behind at me. So I see opportunity to build relationship and create good memories with a younger person. I race her. She wins of course.
I then notice she is bare feet. I discuss the perils of bare feet when outside in the yard. Izzy scoffs in dismissal. She assures me nothing is in the yard to get into her feet. She speeds off demanding I race her. I muster what little energy I have left and sprint after her.
She wins again. Then, as is her custom, she walks off to deal with more interesting pursuits.
Me? Very glad. Cause I'm well tired. Now I can get back to my cool down.  So, I resume my cool down walk.
Izzy reappears and joins me. There's something different about her.
I'm done. So, we walk over to a group of men nearby who have just finished playing their Saturday Morning Football. One gentleman shouts out to Izzy in greeting and wonderment "Is what happen mek Izzy put on shoes!?"
Morale: Whether folk are 5 or 105 years old, accept that people watch people. People also try to make you conform to their way of thinking and behaving, often using detracting comments. However, if you will intentionally live your core values in the significant areas of your life, and focus on honouring your own values consistently, whether your actions are supported by others or not, then in time, people will grow to respect you. They respect you for showing up well on a matter, in a reliable way. When people respect you, they accept that there is merit in what you say and do. Most may never tell you that outright. Many will begin incorporating your approach in their own life, often, without a word to you.
Continue to walk up-and-down, whether you feel like doing it or not, and with or without companions. Just know where you are going and why. That's how you influence people.
Cheryll Messam
Life & Career Coach
Professional Resume Writer & LinkedIn Profile Writer
youinmindjamaica.com
Cell/WhatsApp: 876-357-6397