10 Life Quotes From The Greats!
by
Cheryll Messam
in Personal Development, Professional Development, Self-Mastery (Personal Leadership)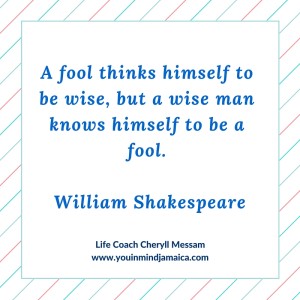 In growing up I would be told quite regularly and sternly by  adults "A word to the wise is sufficient!"  Can you relate? Of course this is no commentary on any behaviour of mine that would warrant several reminders. You know how adults get. Heh Heh. There were these stern reminders in the forms of 'sayings and proverbs' on the one hand. On the other hand, my school curriculum from early childhood through to secondary  was rife with quotes and gems, which had to be memorized.  And you know what? They continue to this day to play over and over in my head, at the most inconvenient times,  especially when I would like to indulge in a generous helping of foolishness. Can you relate?
But it was all for the good, as I have come to value quotes. I find them effective in illuminating, guiding, inspiring, comforting and strengthening us in our human experiences and predicaments. I share ten such with you from the lips of great men of old — Aristotle, Cicero, Heraclitus, Homer and Seneca. I hope that in the list you will find new, and old quotes but all together providing you illumination, guidance, inspiration, comfort and strength as you go through your life experiences and embrace the best that is ahead of you.
"Not to know what has been transacted in former times is to be always a child. If no use is made of the labors of past ages, the world must remain always in the infancy of knowledge. " – Cicero
"It is the mark of an educated mind to be able to entertain a thought without accepting it." –Aristotle
"Reason should direct and appetite obey." – Cicero
"My best friend is the man who in wishing me well wishes it for my sake." –Aristotle
"The difficulty is not so great to die for a friend, as to find a friend worth dying for." – Homer
"The road up and the road down are one and the same." – Heraclitus
"A man who suffers before it is necessary, suffers more than is necessary."- Seneca
"Even where sleep is concerned, too much is a bad thing." – Homer
"As is a tale, so is life: not how long it is, but how good it is, is what matters." – Seneca
"A hidden connection is stronger than an obvious one." – Heraclitus
---
ABOUT CHERYLL MESSAM
Cheryll Messam, is a Personal & Professional Development Consultant, Life & Corporate Coach, Career Coach, Professional Resume Writer and LinkedIn Profile Writer. Through coaching, consultations, and training opportunities, Coach Cheryll  supports Professionals who wish to master or eliminate challenging workplace, interpersonal, productivity, self-confidence, and career issues or set and accomplish realistic goals.
CONTACT US TODAY!
Cheryll Messam, CPC, ELI-MP
Certified Professional Life & Corporate Coach
Energy Leadership Master Practitioner
You in Mind Jamaica – Your Ally for Excellence in Life & Work
876-357-6397 (Local clients, Jamaica)
954-762-7942 (International clients) / Skype: cmessam2
Email: cheryll@youinmindjamaica.comPLEASE JOIN US
Website: https://youinmindjamaica.com/
Facebook: https://www.facebook.com/youinmindjamaica
LinkedIN: jm.linkedin.com/in/cheryllmessam/
Twitter: https://twitter.com/youinmindJA