YOU in Mind Jamaica
now browsing by tag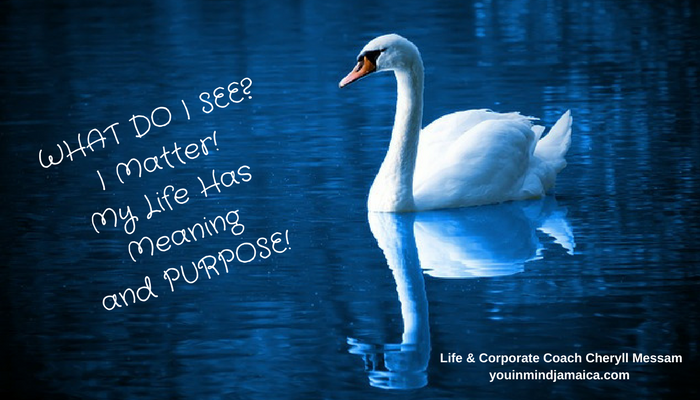 Perhaps you know that today is
Ash Wednesday
  a day of religious significance to the Christian Community across the world. At heart, it begins a 40 day period of intentional reflection about life, and about one's own life and purpose.
I don't know what kind of day you are having as we pause mid-week, or what kind of season that you find yourself in, as we approach the end of the first quarter of New Year 2017, given that today is the 1st of March…already [smile].
But I do hope that you have check points in your week, month or at least year, where you spend intentional time reflecting on Life and the meaning and purpose of your own life. The pace of life is very very "crazy-making" and you may respond "How does Cheryll expect me to find time to r e f l e c t. I can barely keep up with the current demands of my life, and all the commitments, and expectations that the significant people/organizations in my life have of me, not to mention the various non-negotiable deadlines I have to meet?" "I don't need reflection. I need rest!"






by

When we feel overwhelmed it is frequently because we are taking in everything all at once i.e. the problem; the cause; the players; the details of what has happened; the impact it has had or will have; and oh yes "What will people say…?" As most of us have experienced, there are just some things that are too huge to wrap our arms around at one go. Therefore we have to learn how to step back, calm down, and take another and more measured look at the problem. This is absolutely essential  if we  are to get past it and restore normalcy to our lives. In this video I share a strategy of how to use questions to break the spiral of overwhelm and regain perspective on how to take next steps to get resolution. Specifically I focus on the questions of "How vs Why?"
Hope you find this helpful!
CONTACT COACH CHERYLL
Coach Cheryll Messam, CPC, ELI-MP, is a Certified Professional Life & Corporate Coach,  Energy Leadership Master Practitioner, and owner of YOU in Mind Jamaica, a personal and professional development company. Coach Cheryll helps local and international clients overcome their workplace, career management, job search, productivity, self-confidence and goal setting challenges.
Cheryll Messam, CPC, ELI-MP
Certified Professional Life & Corporate Coach
Energy Leadership Master Practitioner
You in Mind Jamaica – Your Ally for Excellence in Life & Work
Local clients: 876-357-6397 (Jamaica)
International clients: 954-762-7942 / Skype: cmessam2
Email: cheryll@youinmindjamaica.com (* Remember to include your  name and telephone number in your message)

*Office Hours: Coaching sessions & Consultations are done by phone or internet telephony e.g. Skype. Best time to call during weekdays is evenings 5 pm  – 10 pm EST, and on Saturdays 10 am – 5 pm.

PLEASE JOIN US
Website: http://youinmindjamaica.com/
Facebook: https://www.facebook.com/youinmindjamaica
LinkedIN: jm.linkedin.com/in/cheryllmessam/
Twitter: https://twitter.com/youinmindJA






by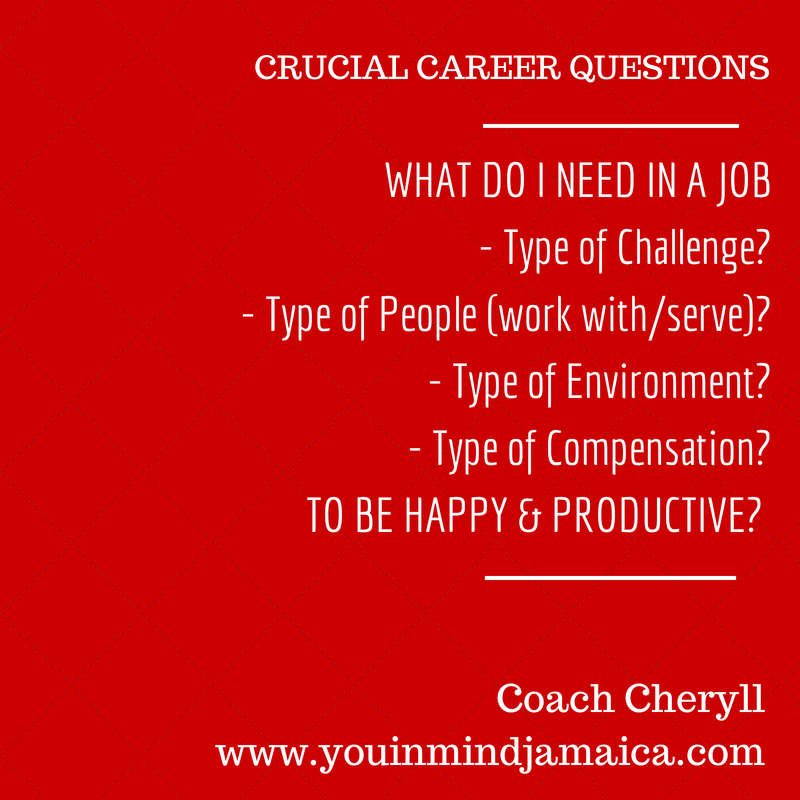 Whether you are searching for a job for the very first time or thinking about how your career is going, requires careful thought. Above I have shared a brief outline to help you think through what is important to you in selecting your next job opportunity. I encourage you to take the time to carefully brainstorm the answers to each of those elements which comprise the experience of work. You may be surprised at what you find. Hopefully you will learn something important about yourself. Use the information you generate from your brainstorm exercise to find at least 3 job options that have the elements that you have decided on. This will take you closer to finding the right job for you.
If you need help in your job search and career management, please contact me to set up a coaching appointment. Don't leave before you collect my gift to you below.
CLICK ON PICTURE TO DOWNLOAD YOUR FREE COPY OF MY e-BOOK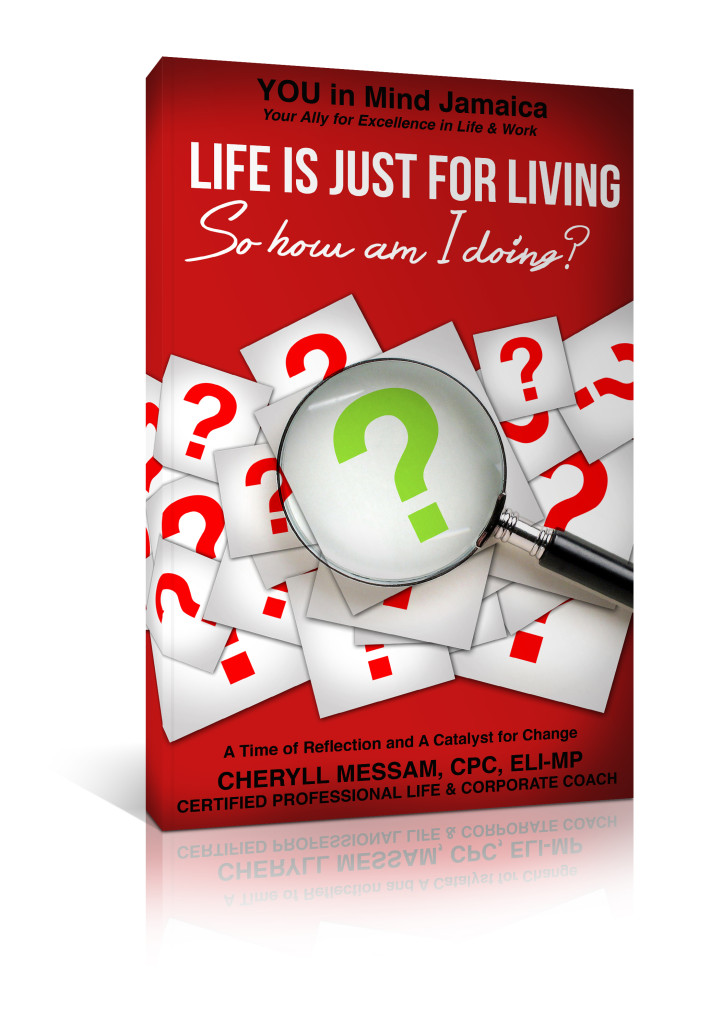 – Coach Cheryll
Cheryll Messam Certified Professional Life & Corporate Coach cheryll@youinmindjamaica.com International Clients: 954-762-7942 Local Clients: 876-357-6397  






by

Dear Friends,
Recently I was contacted by a reporter of the Jamaica Observer newspaper to give a perspective related to Career Management. I am sharing the article with you. Please see link below. Read the Rest…






by

WELCOME, so glad you have taken the time to visit! Our YOU in Mind Blog, is just that – a blog with YOU in Mind! We hope it will be for YOU a treasured resource which helps you grow in personal leadership, and leadership of others. We also hope that the knowledge share here will enable you to live joyfully, powerfully, purposefully and in keeping with what you value most for your engagements in your personal and professional life.  The information we share with you will help you:
be honest with yourself and with the other significant persons in your life;
be thoughtful about the direction your life is taking and skilled in correcting your course, to ensure desirable outcomes
communicate effectively and influence others for purposeful action
set meaningful intentions and follow-through to successful completion
effectively confront and overcome internal and external energy drainers
think and act strategically
continue to be a life-long learner
Ultimately our You in Mind Blog is one more resource we have provided with YOU in mind as we support your excellence in life and work.






by