Building Self-Confidence
now browsing by tag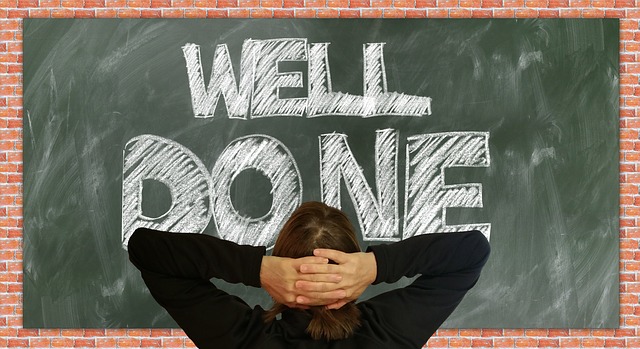 "Everybody  who cares about you, believes in you.
Make sure you are one of them!"
 – Unknown
Your best asset to drive your success in advancing in your chosen career or in finding a job, is your…SELF-CONFIDENCE. What is self-confidence? It is how you feel about your ability to accomplish a given matter. In other words, it is your answer to the question "Can I do it?" It can fluctuate from one activity to the next, throughout a given day. Self-Confidence is developed through experience. Therefore, for your self-confidence to improve, you must develop an action-orientation mindset. You must be doing things. For example, you must be learning new information, practicing in order to gain mastery, trying new things, taking risks, and acting on opportunities even when fearful or intimidated. In taking action, you gain accomplishments. Each accomplishment boosts your self-confidence, which in turn sets you up for major accomplishments. Each major accomplishment further boosts your self-confidence to an even greater degree. To advance in your career, your action orientation must focus on activities that are most relevant to your chosen career field.
You build self-confidence in your career mainly by your choices at work. As you work for others, you must identify how your role in the organization specifically contributes to the day-to-day operation of the organization and accomplishment of the organization's objectives. Most importantly, you must be able to quantify the value of your contribution to your organization over time. In addition, you must be able to clearly articulate that value either in an internal interview in pursuit of a promotion or an award within the organization. Likewise, if you are pursuing better career opportunities outside of your current organization, you must be able to clearly articulate to the interview panel, the value of your contribution to each relevant organization in your work history.
The best way to stay on top of this is to take the time to write down your accomplishments as they occur. Record how your actions created a solution, saved money, improved efficiency, added to the store of knowledge, expanded the variety of goods and services offered, increased sales, satisfied customers and/or enhanced the performance of staff. It is important to note, you can only have these kinds of experiences and reflection on your work history, if you are engaged in meaningful work. Sadly, not every organization engages employees in meaningful work. Not all work activities and job positions are…'valuable'. This means that it will be difficult for employees in those kinds of positions to be able to quantify how their activities contributed to the overall success of the organization. Your inability to identify how your role at work contributed to the organization achieving its objectives, will undermine your self-confidence. Therefore, it is your personal as well as professional responsibility, to re-position yourself within your organization or move to another organization in which you are engaged in meaningful, value adding, confidence boosting work.
The same is true while in university, you should thoughtfully select value adding subjects and extra-curricular activities which are highly relevant to your career of choice. Although recruiters understand that a recent graduate does not have a lot of work experience, they expect to see evidence that the subjects taken and projects you participated in were highly relevant to the job you are pursuing, and were achieved with excellent grades. Through your extra-curricular activities and your positions of responsibility, you demonstrate to a recruiter your ability to balance academics with social-service responsibilities, and you also demonstrate the quality of your interpersonal, administrative and leadership skills.
If you select the right activities in school and in your organization that are highly relevant to your career goals, and if you keep abreast of your accomplishments and can give clear examples of how they contributed to the success of the organization or equip you to contribute to the success of the next organization you wish to work at, you will be prepared to advance in your career. Preparation is an excellent booster of self-confidence. Begin today.
****
If this article has been valuable to you, why not use the share buttons and share it with members of your email and online community? And if you haven't done so already, please consider connecting with me on my 
Facebook Page
, 
LinkedIn
 and 
Twitter
. Looking forward to connecting with you too!
~Coach Cheryll
Cheryll Messam is a Personal & Professional Development Consultant, Life, Corporate & Career Coach, Professional Resume Writer and LinkedIn Profile Writer. She helps professionals overcome workplace, job hunting, career management, emotional intelligence, self-confidence challenges, as well as set and accomplish life & work goals. To learn more about our services click on the links below and feel free to contact Cheryll via email: cheryll@youinmindjamaica.com or phone: 954-762-7942 (Int); 876-357-6397 (Local)

International Clients Click Here!

Looking forward to being Your Ally for Excellence in Life & Work as you are bound for your best year to date! BEGIN TODAY!






by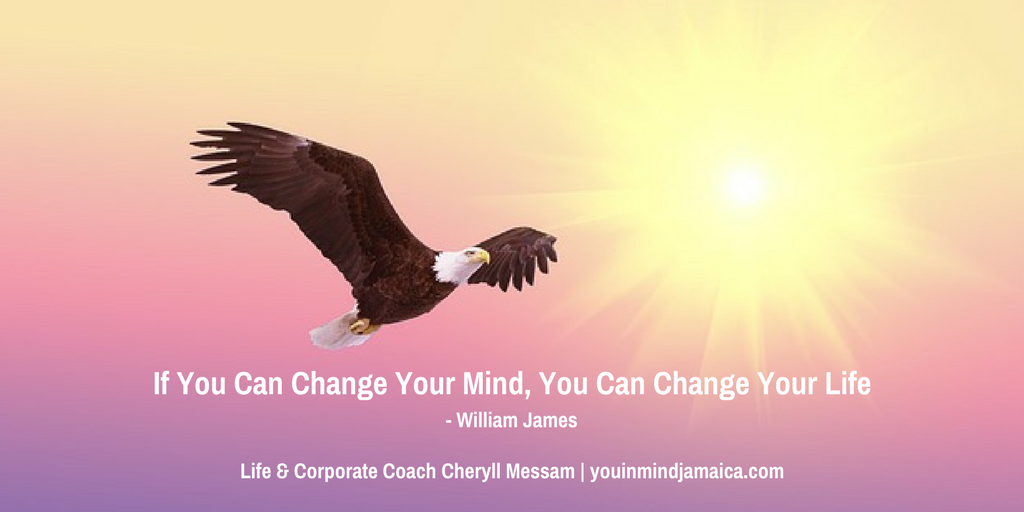 This is the story of Kathleen, a client of one of my Coach colleagues, Karyn Greenstreet. I too have been a client of Karyn and I must say she is quite competent. So be sure to check out her great content on her website after your read Kathleen's story, at passionforbusiness.com
Now back to the story of Kathleen. I read Kathleen's story and found it striking. I thought that instead of writing my own post, I should share this simple, powerful and very human story with you. I read it and I saw myself. I saw my clients. I saw my family members, friends, colleagues I work with, and other folk that I know and observe in daily life.






by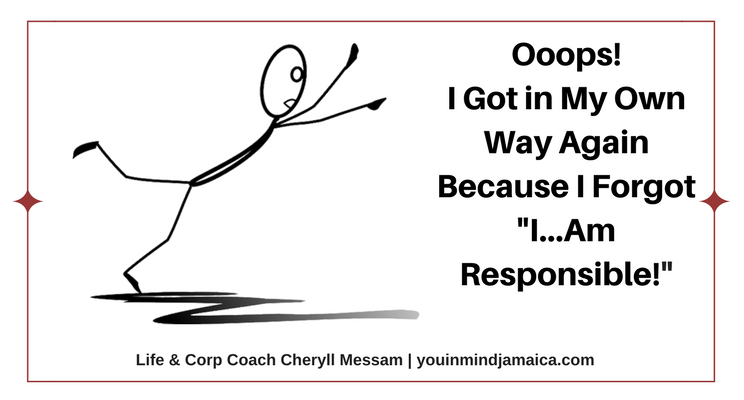 "Nothing I do will make a difference!"
Belief: I am a victim.
"What will they say?"
Belief: What family, friends, and people I want to like and accept me think, is more important than what I think or value, especially in relation to my own life.
"I need him [her] in my life."
Belief: I cannot be [do it] alone.
"I am going to make her do what she should do for me!"
Belief: I have enough power and influence to force people to change their behaviour.
"I would have that by now if only…"
Belief: A good excuse will cover up my lack of action and progress in the significant areas of my life.
"All my life people keep saying this or that about me, but they just don't understand."
Belief: I am not responsible for the negative patterns that show up in my life, it's my circumstances.
"I'm not as smart or as attractive or as educated or as wealthy or as connected as…"
 Belief:  When I focus on the assets of others I don't need to admit that I do not like myself or value myself highly or believe in myself enough.
"I could have that, if I really wanted it."
Belief: It's not that I truly can't do something or I find it difficult, my lack of performance is due to motivation
"I need more time to think about it"
Belief: I cannot admit that I am afraid.
"I don't need help, everybody has setbacks in life."
Belief: If I ask for help it means that something is seriously wrong with me.
---
Cheryll Messam is a Personal & Professional Development Consultant, Life, Corporate & Career Coach, Professional Resume Writer and LinkedIn Profile Writer. She helps professionals overcome workplace,  job hunting, career management, emotional intelligence, self-confidence challenges, as well as set and accomplish life & work goals. To learn more about our services click on the links below and feel free to contact Cheryll via email: cheryll@youinmindjamaica.com  or phone: 954-762-7942 (Int);  876-357-6397 (Local)
International Clients Click Here!
OTHER WAYS TO CONNECT






by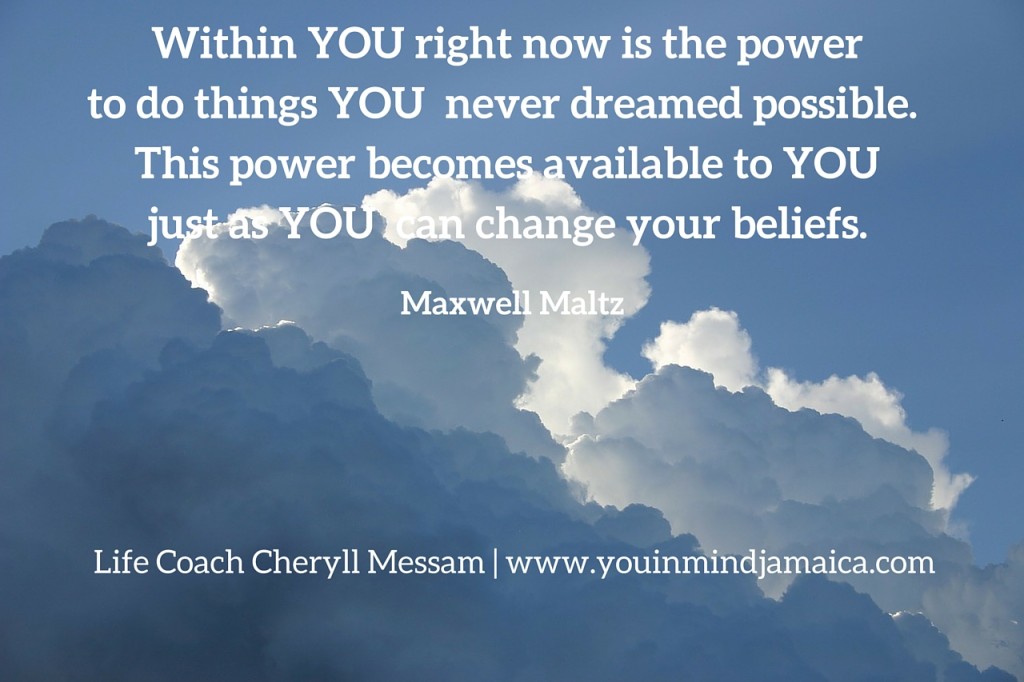 So you've finally and decisively (hopefully) made up your mind and now your goal is clear. But did you know that no matter how good you are at what you have set out to do, your performance will most likely be sub-optimal?  The Theory of Constraints, developed by Dr. Eli Godratt (1984) attempts to explain this for us. Essentially Dr. Godratt is saying what we've heard from youth, "A chain is as strong as its weakest link." When a business or an individual sets out to accomplish a goal, they will be hampered by constraints.
Constraints in an organization can relate to people, supplies, information, equipment, or policies. They can be tangible and intangible (e.g. organizational culture) and can also be internal or external to an organization. Constraints on a personal level can involve skills, knowledge, attitudes, people,  finances, tools/equipment, environment (e.g. domestic, geographical, national, global). As in organizations, personal  constraints can be tangible or intangible, and internal or external.
If we look at constraints as related to weaknesses or vulnerabilities, then there may be several such factors relevant to your particular goal. However, in the Theory of Constraints, there can only be one (1) constraint at a time. The weakest link. The factor that causes the…greatest… vulnerability or threat to the achievement of your goal.  It is instructive to understand and remember ,that it is the weakest link that sets the pace of your progress towards achieving your goal.
Therefore your goal setting activity must include up front, the identification of  your constraints, and careful judgment on your part of which of them represents your weakest link. If you wish to increase the likelihood of achieving your goal, then once the constraint is identified, you must manage it. That means take action to completely eliminate it, if that is possible, or manage it well. After you have implemented your strategy to manage your constraint, you should do an evaluation to determine whether your progress towards your goal has improved. If not, then adjust your strategy and evaluate again, and repeat until the constraint is effectively managed. If yes, you can expect your progress will speed up. It is now time to determine what is the next weakest link and take action to manage that and so on.
It is very likely that , many persons have aborted, and still-born goals in their personal history. This is not because the goal was intrinsically nigh impossible. This is not because they themselves were no match for the goal. It may simply be a case of setting a worthy goal, becoming distracted and enamoured with the idea of accomplishing the goal, and embracing the positive changes that it will bring, without doing the hard work of considering the disabling factors within and externally, which may get in the way. Then reality strikes at the most inconvenient time and they lose their self-confidence, and energy, towards their vision for their lives, and self-doubt , fear and hesitation increases.
Goals are there to help us keep focus on and bring into our lives the things we value most.  Yet the process of setting goals must be done properly if we are to achieve them and develop our lives in the way we desire and deserve. Have you aborted a goal because you were hi-jacked by a constraint you didn't  pay early attention to? Did you miscalculate which constraint represented your weakest link? Remember the constraint can be internal or external. Interestingly, some experts argue based on the Pareto Principle that most of our constraints are internal. How does this apply to you and your habit of setting or not setting goals? Do you cultivate a mindset of limiting beliefs? Do you suffer from procrastination or indecisiveness? Do you typically jump into things without careful analysis and reflection? Do you properly plan concerning others but poorly plan for yourself? Do you avoid asking for help from family, friends, experts, colleagues?
You owe it to yourself to live your life fully. You can do this by examining what's holding you back in any or  every area of your life, and begin crafting a plan, then taking action to eliminate the constraint, even if you discover that it is you who are standing in your own way.
References
Godratt's Theory of Constraint (Parts 1 of 3)
http://www.brighthubpm.com/project-planning/4088-goldratts-theory-of-constraints-part-one/
The Theory of Constraints
https://www.mindtools.com/pages/article/toc.htm
Living Without Limits
http://www.briantracy.com/blog/personal-success/living-without-limits/
---
ABOUT CHERYLL MESSAM
Cheryll Messam, is a Personal & Professional Development Consultant, Life & Corporate Coach, Career Coach, Professional Resume Writer and LinkedIn Profile Writer. Through coaching, consultations, and training opportunities, Coach Cheryll  supports Professionals who wish to master or eliminate challenging workplace, interpersonal, productivity, self-confidence, and career issues or set and accomplish realistic goals.
Cheryll Messam, CPC, ELI-MP
Certified Professional Life & Corporate Coach
Energy Leadership Master Practitioner
You in Mind Jamaica – Your Ally for Excellence in Life & Work
Local clients: 876-357-6397 (Jamaica)
International clients: 954-762-7942 / Skype: cmessam2
Email: cheryll@youinmindjamaica.com
Website: http://youinmindjamaica.com/
LinkedIn: https://jm.linkedin.com/in/cheryllmessam
PLEASE JOIN US
Facebook: https://www.facebook.com/youinmindjamaica
Twitter: https://twitter.com/youinmindJA






by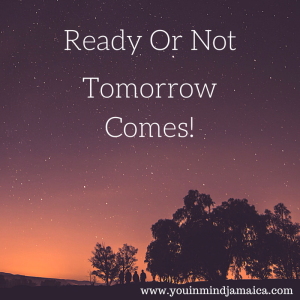 As a Life & Corporate Coach, I am frequently discussing career goals and job search strategies with professionals. These professionals range from the new graduate who even three years out from graduation, is still not working, or is not working in the field he/she studied;  to the person who has been in the labour market over 20 or 30 years and is wondering whether to re-tool or transition into some form of entrepreneurship. Career choices will continue to be a growing concern across most adult life-stages, as retirement timelines continue to be pushed back.  In this article, I highlight some key areas that professionals must pay attention to, in order to maintain their employability and viability to earn an income for as long as they need to.
How useful are my academic background and work experience in today's job market or for entrepreneurship success?
Careers may have a life-span and most are impacted by the state of the economy and significant changes in how we live. For example, changes in technology can make some careers and industries obsolete.  Stay in touch with local and international industry news and constantly assess whether your certification and work history reflects what employers are currently requiring or what you will need to be a successful entrepreneur. If possible, ensure that your career choices are relevant in more than one country. This will improve your employability options. Bear in mind that professionals who have additional skills or skill based careers, are better able to support themselves than their theory based counterparts, in the face of job-loss, or a poor labour market, through freelance work online or via traditional modes. Read the Rest…






by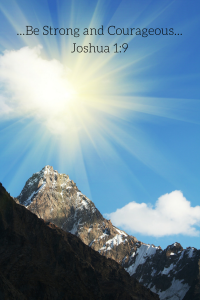 You know what? I found that last year 2014, I cried more than normal. I am not generally a crier. When I do, it doesn't even last long, which I find frustrating because there is a time and place for a good cry.  For me it is a connecter and a cleanser. It connects me with the reality of who I am. Yes, I get affected. Yes, I get impacted. Yes, I hurt and feel broken at times. It washes my system of the pent up, burgeoning, and negative emotions and restores me to safety emotionally. I found that during my vacation leave in December, I would cry more easily. But "Why all the tears?" you may wonder.  They were due to being bombarded with loads of awful news, and in particular, the suffering it brings on people, especially vulnerable people. Read the Rest…






by