A "Tessmus Gift" For You! Free Coaching Offer on Career Concerns!
Dear Friend,
Do You Have a Career Concern? Well I can help you think more clearly about it and devise an effective strategy to conquer it!
As you may have guessed I am Jamaican. As you may have heard, or witnessed if you know a Jamaican, we-are-completely-over-the-moon-with-joy at the great victory of our fellow Jamaican Tessanne Chin who is now unquestionably The Voice 2013. Of course, we'd like to believe that Tessanne is The Voice Forever!!!  Oh bwoy I digress! As I was saying, I am sooo emotional and inspired by Tessanne's journey; her relationship with her Coach–Adam Levine, and the wonder of that dynamic; her focus; her determination; her consistent execution and excellence, that in 'the Spirit of Tessmus"  as we are now referring to this season, I wish to share my gratitude and joy at receiving such a wonderful life lesson in EXCELLENCE! So I am offering a helping hand to any professional who desires it. Other than the gift of Faith, I know of no better gift to offer you than the clarity and encouragement so many receive through Life Coaching.

Your 'Tessmus' Gift!
In honour of Tessanne's win of The Voice 2013, I am offering free 30 minute coaching sessions to 20 + 13 = 33 persons based locally or internationally. Please see details below:
This Free Coaching offer is available to

the first 33 persons

who contact me via email: cheryll@youinmindjamaica.com
Your coaching topic must be Career related e.g. job-search, workplace challenges, figuring out career goals, productivity issues
Insert the code "My Tessmus Coaching Gift" in your email subject line and share a brief paragraph 1) Outlining your challenge 2) Stating the ideal outcome you desire. [No more than half a page please.]
Share your contact information

Full Name
Email
Age
Profession
Level of Seniority in your Org e.g. Entry-level or Clerical/Officer/Supervisor/Middle-Manager/Executive / Small Business Owner
Country
Time Zone

The coaching session will last 30 mins and will be by phone / skype.  You will place the call to the Coach.
During the coaching session we will:

Assess your current challenge
Review what strategies you have been using to date
Identify solution blockers in your thinking/strategy/environment
Create an action plan for you to achieve your desired outcome

If you are a winner of this free offer you will receive an acknowledgement from us within 3 business days to set up our coaching appointment.
If you don't hear from us, this means that you were not among the first 33 persons to accept this Tessmus Coaching Gift; and we have been overwhelmed by requests, and will add you to our contact list so you can benefit from our tips, news, and additional offers to enhance your personal and professional life.
Please feel free to check out how others have benefited from a coaching relationship with us at YOU in Mind Jamaica.
[ 'Tessmus' Coaching Gift Offer ends 28-12-2013]
If this gift valued at US$50 would be of benefit to you, I look forward to our Coaching Session and to supporting you to Conquer Career Concerns and have the joy and satisfaction you desire in your professional life.  I have no doubt—You Deserve It!
With YOU in Mind,
Coach Cheryll
Cheryll Messam, CPC, ELI-MP
Certified Professional Coach
Energy Leadership Master Practitioner
Email: cheryll@youinmindjamaica.com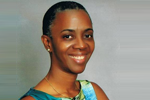 by